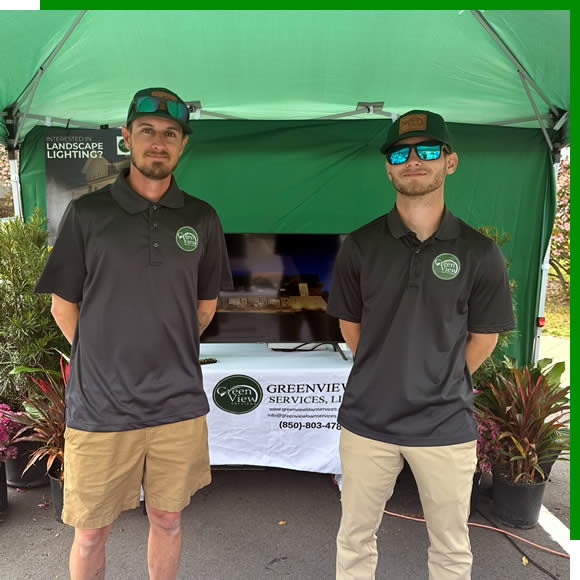 Bringing a Full Line of Lawncare and Landscape Services to Okaloosa and surrounding counties.
Since opening our doors in 2017 we were quickly met by real clients with real needs. Being part of the same community we service, locally owned and operated, our goal is to provide prompt, friendly, professional lawn care and landscape maintenance services coupled with 21st century technology. We offer no contract services. Linked with convenient online billing to make it easier than ever to relax on your weekends and no longer fret over the lawn care chores anymore. Let us take over so you can get back to enjoying your valuable time with family again! We proudly service Crestview, Niceville, Fort Walton Beach, and Destin areas. We enjoy working with our customers to achieve the lawn care goals they have and establish long lasting relationships. You can count on us to always provide 100% satisfaction to you.
Why Choose Greenview Services for Your Lawn Care in Florida
➤ Size Greenview Services LLC is Locally Owned and Owner Operated. Pride is taken at every property we set foot on! We're vested in the community and feel truly blessed and proud to be able to serve. Our equipment is hand picked and outfitted for your specific property.
➤ Communication Knowing what YOU want, we'll help each step of the way. Communication is paramount to us and we're available 24/7 to each and everyone of our clients through many platforms, rather it be traditional phone, text, email or social media outlets such as Facebook, Twitter, Instagram. We're here for you and ready to LISTEN!
➤ Convenience Our services are SIMPLE and EASY. After all, that's why you hire a service company after all, right? Convenient, easy paperless online billing. No more worries or obligations with lengthy contracts no one understands anyway! We've got you covered!
➤ Reputation We feel that we are truly your BEST CHOICE for lawn care and landscape maintenance services. Having many satisfied clients, we would love for YOU to join them! It's our privilege to serve. Many of our clients have left excellent reviews across platforms such as GOOGLE, YELP, and FACEBOOK and we feel honored. We're certainly proud to say our reputation is second to none and we're known for our customer relations and satisfaction.